Our system is based on years of experience! This is how we work: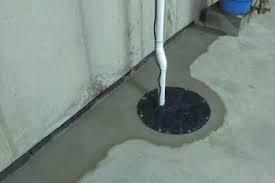 Our system is designed to prevent clogging so our clients are enjoying their dry basement, risk free!
We implemented a drainage system similar to those recommended on This Old House.
The system is installed under their basement floor and inside the footer.
The system is designed to catch ground water and any water coming down the wall.
The water is captured before it has a chance to go onto the basement floor and directed into a central sump where it is moved out of the house.
We jack hammered the perimeter, put in a drainage system, poured concrete on the top, and installed a new sump pump four feet into the ground.
Waterproofing your basement in Burlington, VT will improve the quality and value of your home and provide you with additional space for your use!
Our Burlington basement waterproofing services are designed to get and keep the water out of your basement and your basement dry. We have over twelve years of experience creating dry basements for our clients.
Waterproofing Basement Project Case Study
A client came to us with a 1200 square foot basement; they had suffered with water in their basement for years. This client had tried to use exterior drains and had interior drains and nothing worked. They had used a sump pump for 25 years but could not keep the basement dry enough to keep anything down there.
Interested in learning more about how we can help you waterproof your basement in Burlington Vermont? Call us today: 802-355-7347
We would love to discuss how we can help you!
Basements are often a critical part of the house. Whether it's being used as a man cave, storage, or second living area, it can be very frustration if you start to see water damage. There are so many different factors that can lead to a wet basement that it's important you call a specialist right away. Adobe Contracting LLC uses only the highest industry standards for all basement waterproofing and foundation repair services. We know you expect the job done right and we make sure it is the first time. We have over 12 years of experience in the Burlington, Vermont area helping clients keep a dry basement.  Give us a call today for a free estimate.

Abode Contracting LLC services Burlington, VT and surround areas including: Colchester, Winooski, Essex, Shelburne, Williston, St. George